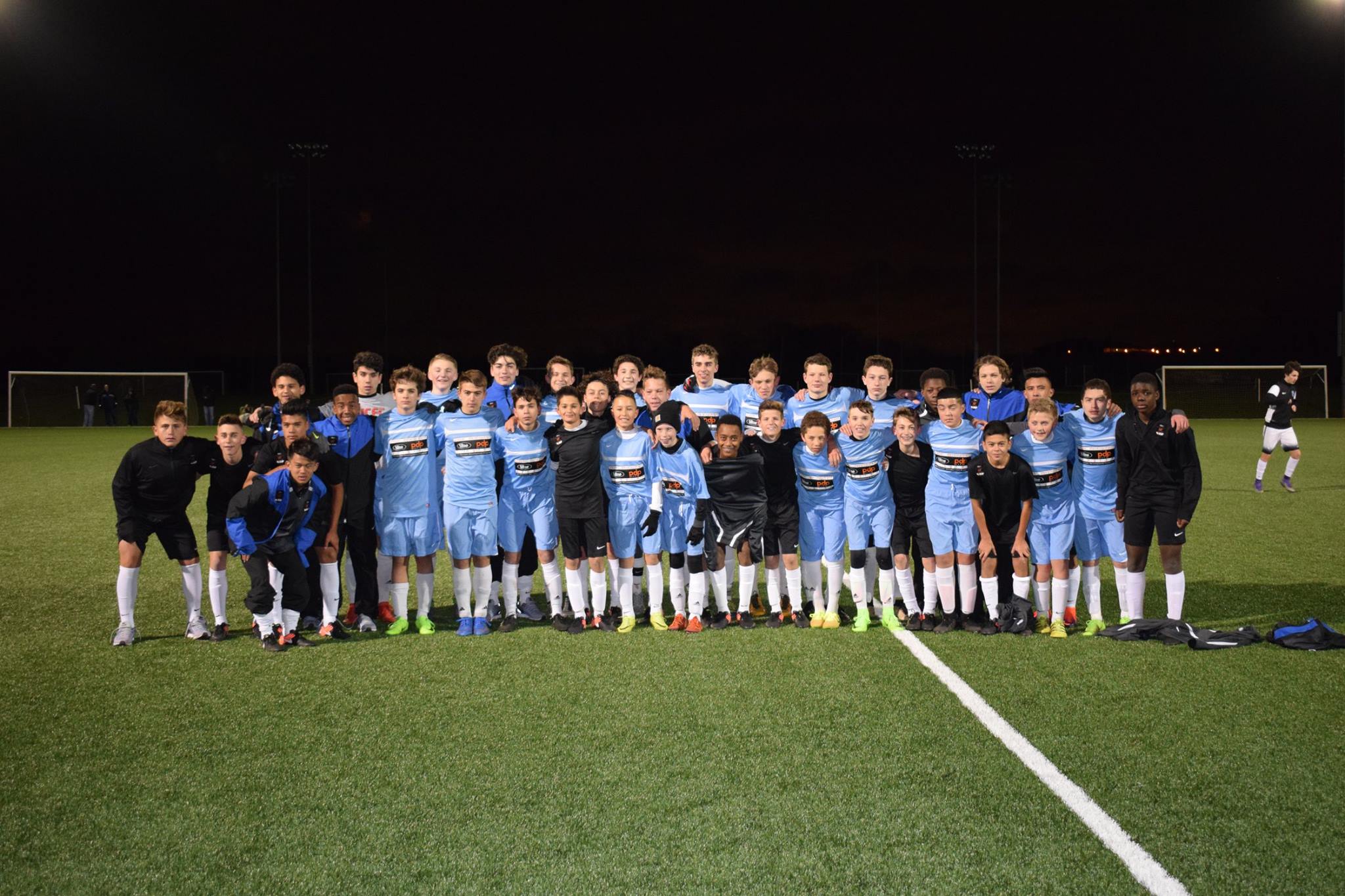 WHEN BIG THINGS COME IN SMALL PACKAGES [LOGAN CALPITO]
HONOLULU, HI – Anyone who lives on O'ahu and has to drive during rush hour traffic knows that when it rains, it pours. It doesn't matter if you're trying to drive five miles, or 15 miles. Know that your commute will be long and hard.
Hence, club soccer on the island of O'ahu.
How can anyone on that "little island in the Pacific" have ANY effect on national or international matters? I'll tell you how. To me, he is a 13-year-old kid wearing a white, long-sleeved, dri-fit id2 training shirt; all of 115 pounds, standing at 5'-2" tall. As he walks in 45-minutes late to meet with me—after enduring a five-mile drive in rain during rush hour on this little island—I am in awe. I don't know why, but I honestly expected some 130-pound, 5'-6" kid towering over me, like many youth of today who seem to be drinking GMO-tainted water here in Hawai'i; and trust me, being an athlete with size is a good thing. But being physically big has nothing on the heart of this kid.
His name is Logan Calpito. His journey began with being selected as one of eleven players from O'ahu, Maui, and Big Island soccer clubs, recognized as Hawai'i's top talent within U.S. Soccer's 2016 target age groups of boys born in 2003 and girls born in 2002. After participating in US Club Soccer's 2016 Player Development Program (PDP)—Hosted by the Major Island Soccer Organization Junior League on O'ahu—Hawai'i's Top-11 joined approximately 100 of the country's elite performers at the National Identification Development Program (id²) Camp in Casa Grande, Arizona, where players trained, scrimmaged, and received off-the-field presentations from US Club Soccer and U.S. Soccer staff. From there, Logan went on to be one of eighteen 2003-2004-born boys to make up the 2017 id2 National Selection Team)—representing 17 clubs across nine states and Peru, in the 17th annual Mediterranean International Cup (MIC) last month in Spain.
Now here's the good part.
Anyone who knows club soccer in Hawai'i knows that many soccer players here are groomed from the moment they can literally walk with a ball at their feet, with either one or both soccer-player parents or various other family members involved in the ultimate village-raising contingency. Not Logan. Born and bred from parents who never even touched a soccer ball with their hands, let alone with their feet, became the third Hawai'i-born player to be selected for this extremely prestigious honor. Maui-native, Tommy Musto and Wai'anae-native, Kawika Keli'i, both held this honor last year. Logan's passion for the sport comes from his innate ability to just know his potential, no doubt from his parent's endless support and encouragement to be not just an exceptional athlete, but a genuine person as well. They are quick to attribute Logan's success to his last AYSO coach at the age of seven, Doug Ewalt, who was the first to recognize his talent on the field and encouraged them to put him into club soccer. Logan himself owes his tremendous blessings towards not just his very first club coaches, Shawn Whitfield and Shane Shimatsu, but to his good friend Tommy Musto, the very same Maui-native player who also made last year's id2 National Team. "Tommy got me into PDP and id2. Without him, we wouldn't have known about it. I thought that if I worked hard enough, and wanted it bad enough, I could make it too."
Logan's success with making the id² National Team did not end there.
During the 11-day training and tournament-play with the id² National Team—beginning in New Jersey and New York and ending in Spain—they became the very first U.S. team to make it to the MIC quarterfinals. As if that were not enough, they were also the first U.S. team to have no goals scored against them in regular regulation play, until their first and only loss in the quarterfinal bracket—due to PK's (4-2) against FC Internationale Milano (Italy).
After defeating teams from all over the world in the first five games—including, CDAFB Tegueste (Canary Islands), Shangwen Nama (China), Hapoel Ramat Gan (Israel), UD Perfeccionamiento Global (Spain), and Club Gimnastic de Manresa (Spain)—it was, "disappointing," says Logan. "I thought we would go farther." But being the humble, local boy that he is, he took it as a learning experience in team dynamics and honestly, "knew it was gonna be hard. I didn't know what to expect."
The loss may have been disappointing, but I for one, along with Logan's parents, are far from disappointed. "We love it and we are super proud of him," says mom, Claudine. Their pride comes from him not only making the team, but he also ended up being an integral part of the starting line-up in every single game in Spain. His versatility and willingness to play anywhere made him a viable asset to an already absurdly talented team. Did I say he was also the youngest player on the team? Well, there it is.
Off the pitch however, Logan is a normal 7th grader at Punahou School, currently trying to catch up with all his schoolwork since just returning from his "once in a lifetime" experience in Spain. His future endeavors include playing soccer in high school, and of course making the U.S. National Team. His biggest inspiration is the one and only, Lionel Messi of FC Barcelona, declaring, "there's something about him gives me the passion to play." Me too, Logan.
As I sat and watched this kid wolf down a BBQ chicken pizza in probably under 15 minutes (minus the crusts), spending the whole evening talking about himself in between bites, it was no surprise that the people he most wanted to thank and acknowledge was his coaches, and with a broad sweep of his hand, his parents, Lawrence and Claudine Calpito. Like any club soccer parent anywhere in the world, Logan's parents are his number one fans. Considering even relocating the family to the mainland in order for Logan to pursue his dreams, there is no end to their undying support and sacrifice. Their wishes for him include, "Tomorrow is not promised. Live in the moment. Stay healthy. Live your dreams. Enjoy the ride. Stay humble. And clean your room." We'll just have to wait and see about that last one. Good luck, Logan.
ABOUT HAWAI'I SOCCER STORIES
Hawai'i Soccer Stories is sponsored and supported by the Hawaii Soccer Federation, Major Island Soccer Organization Junior League, and Hawaii Futsal—member leagues of US Club Soccer; and a member association the United States Futsal Federation, respectively—which operates outdoor (soccer) and indoor (futsal) leagues, programs, and state competitions on all four major Hawaiian Islands of O'ahu, Maui, Big Island, and Kaua'i—including the US Club Soccer Hawai'i State Cup, Hawaii Futsal State Championships, and the Player Development Program, under the id² National Identification and Development Program umbrella.